DESERT SHADOWS: An e-SHORT STORY OF SUSPENSE NOW AVAILABLE

ICE agent Daniel Candelaria knows trouble when he sees it in Auggie Miranda,an intense Latina whose oh-dark-thirty call for help draws him into the dangerous world of human smuggling in the southern Arizona desert. Shadow Wolves, Native American trackers, guide Daniel and Auggie across the unforgiving desert of the Tohono O'odham Reservation in the hope of finding an innocent American kidnapping victim in time.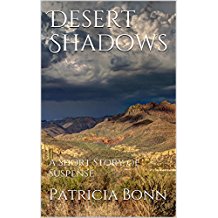 ---
"Never Left Behind" is now available in paperback as part of the SoWest: So Deadly: Sisters in Crime Desert Sleuths Chapter Anthology (Volume 6)
"Superb offering . . .entertains with a surprise rescue by an unusual group of people." Review by Mark P. Sadler, author of "Kettle of Vultures," Suspense Magazine, July 2016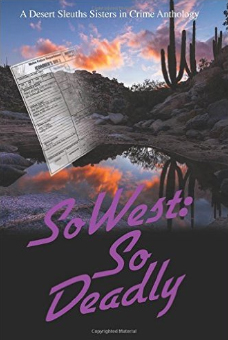 Mike Murphy receives a video of a beaten man and a threat that he would be killed if demands were not met in 12 hours. The problem? Mike has no clue who or where the man is. As the clock ticks closer to the deadline, Mike gathers friends and family to help the FBI try to save a life.
---

Starting over was never so . . . dangerous
Certainly Cari Reagan didn't anticipate what waited for her when she left a cheating husband behind only to face deadly violence at her own doorstep in her new life in Arizona.
Former Navy SEAL Joe Reagan joins Cari in Phoenix to find peace in civilian life and bring his mutt, Lucky 13, home from Afghanistan.  Instead, he finds himself in the cross hairs of a killer.
Marine Mike Murphy, confined to a wheelchair after an encounter with an IED in Afghanistan, is adjusting to his new reality when he is drawn into a madman's deadly game.
The trilogy is available on Amazon, or each novella can be purchased separately